Supplies Needed:
½ yd white lightweight cotton
¼ yd white flannel
1 package single fold bias tape
15" 3mm wax covered cord
1 yd 1mm cotton cord
10 – 4mm eyelets
9 buttons 10mm, 7mm, or 5mm wide
1 yd – ¼" wide lace
Most of the supplies used in this pattern are easy to find, but a couple are not as much, so I will talk over what I used so you can use either what I used or find something similar.
First is the lightweight cotton. As you can see, most of the girls have their undergarments made from a simple bleached muslin – easy to find at any fabric store. Nellie, however, has hers made from cotton voile, a much lighter weight fabric.
If you decide to use voile, you cannot use it for the corset. The corset needs a slightly heavier weight fabric than voile. Muslin will work for the corset especially since it is lined with 100% cotton flannel.
Cotton flannel should be easy to find as well as the single fold bias tape. As you can see in this picture, I used a variety of colors of bias tape around the edges. Various creams and tans, white, and pale pink.
You can use whatever color you like. I think I prefer the white on white, and it feels the most accurate. This example is cream with cream edging, but I don't know if some of that is just due to discoloration from aging.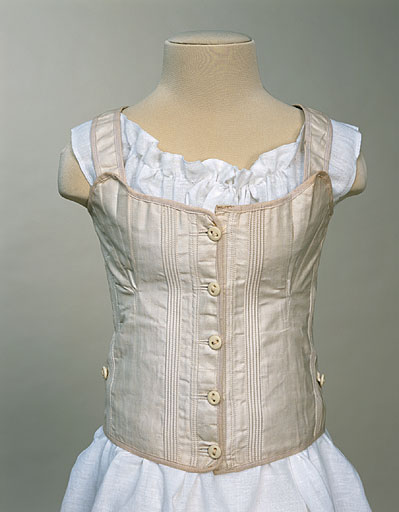 I also found a girl's corset from this time that was made in blue fabric, sadly I can't find the picture anymore. Really, you could make the corset in whatever colors you want, though I would try to keep them light so that it doesn't show under any dresses.
The wax covered cord might be a little more difficult to find. The wax cord is used to add support to the corset and is much easier to use than boning. Originally, I used some I had in my stash (pictured above) but later I bought this and it worked well.
1mm cotton cord is quite small and I was unable to find it at Hobby Lobby or Joanns, so many of the dolls have lacing that is kind of thick. So long as your cord will fit through your eyelets you should be fine.
For the eyelets I was unable to find anything smaller than 4mm at Hobby Lobby. I think something slightly smaller, like 3mm, would look a bit better, especially on the smaller dolls. But, sadly, I have been unable to find any. I have heard that you might be able to find eyelets that would be smaller in the scrap-booking section, so maybe look there, I didn't remember that when I was looking.
When you do buy your eyelets, make sure they come with some little extra pieces so you can pound them in.
I was very happy to be able to find some teeny tiny buttons at Hobby Lobby, which work perfectly for doll clothing. In the past when I have looked at Joanns I was unable to find buttons that small, so I don't know if they have them or not. But having your buttons to scale with your doll really make the overall effect much more realistic looking.
For the lace, you can use whatever 1/4″ wide lace you want. Have fun picking the lace out and I hope you enjoy making these undergarments. 🙂